The LMSA has negotiated the following flying sites on the Long Mynd with the National Trust:-
LMSA Flying Sites
| Site | Wind Direction | Description |
| --- | --- | --- |
| Darnford | Northerly Slope | Very good thermal slope flies best in lighter winds. Good landing area Park at cattle grid. Slight uphill walk |
| Reservoir | North East Slope | Slope can be bumpy but can be very good when thermals are prevalent. Park at top of hill, short walk down to slope edge. Good Landing Area |
| Ashes Hollow | South to East | Good slope and thermal lift. Very interesting slope with many contours. Closed during nesting season - April 1st to July 15th. Parking same as for reservoir |
| Pole Cottage | Westerly slope | Big clean air, often massive lift, very easy landing. Park at small copse. Short level walk to slope edge |
| Grindle (S) and Nills (E) | Southerly & Easterly slopes | Long walk from the Pole Cottage car park |
| Ashlet and Town Brook | Easterly slope | Alternative to Ashes Hollow |
Darnford
Very good thermal slope flies best in lighter winds. Good landing area Park at cattle grid. Slight uphill walk.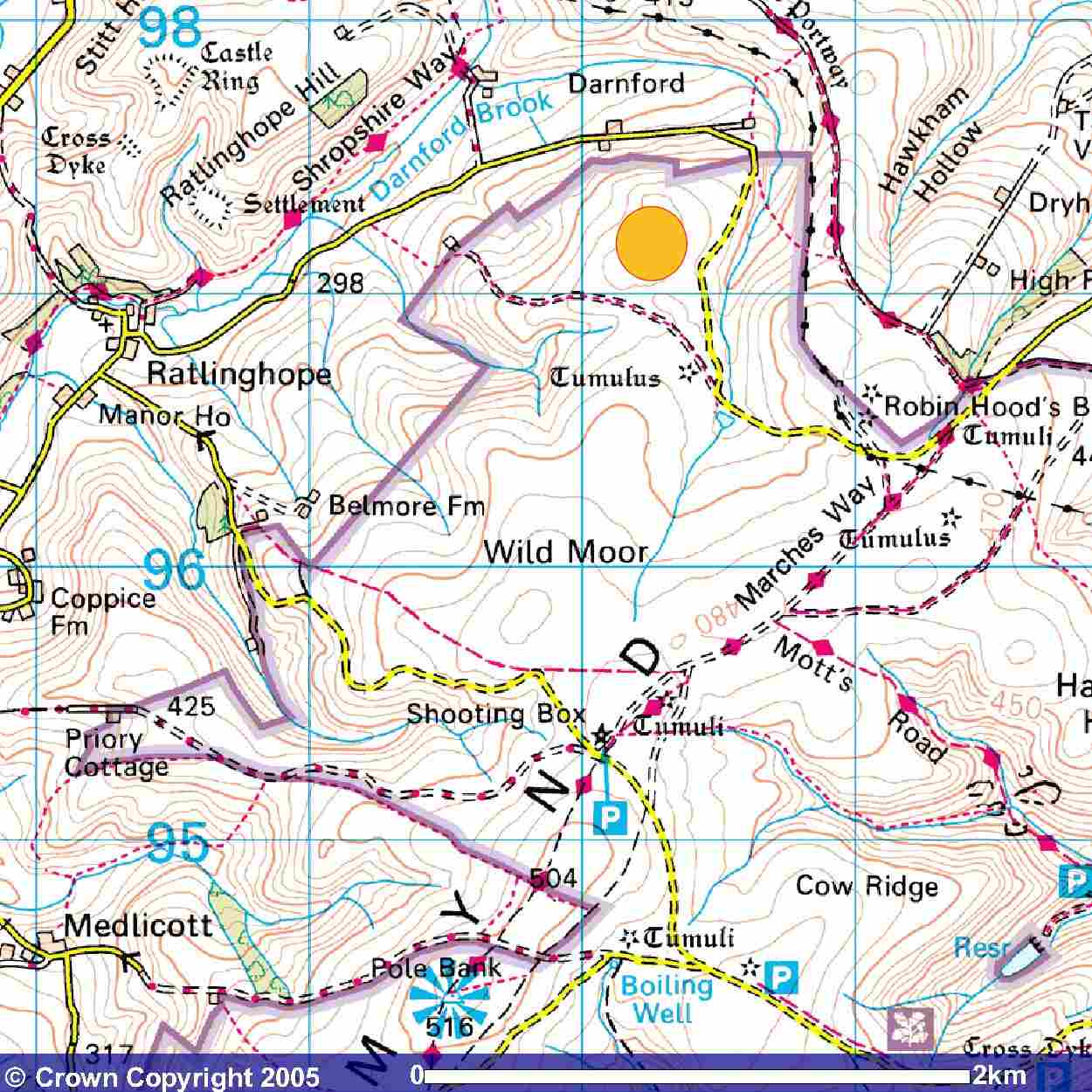 Reservoir, Ashes Hollow, Town Brook, Ashlet, Grindle & Nills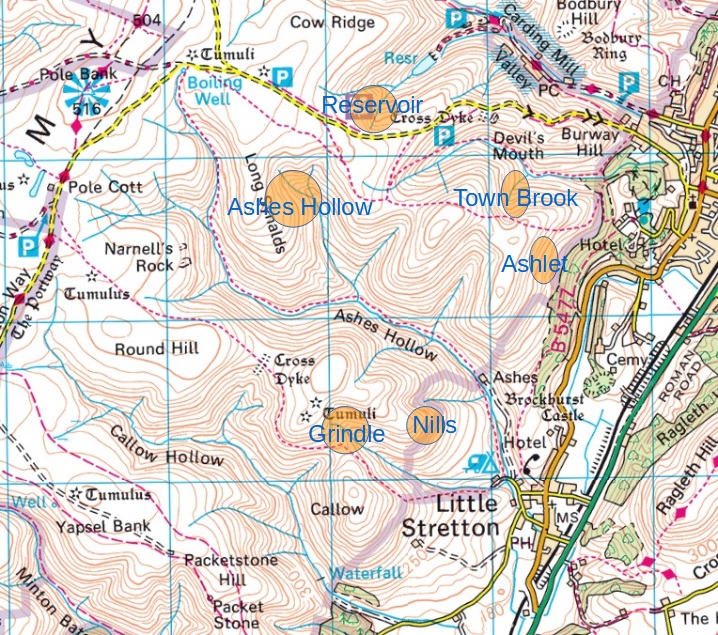 Pole Cottage
This is the jewel in the crown of the Long Mynd sites. Big clean air, often massive lift, very easy landing. Park at small copse. Short level walk to slope edge. The orange spot marks the National Trust designated model flying site. Please do NOT use areas that are not designated for model flying.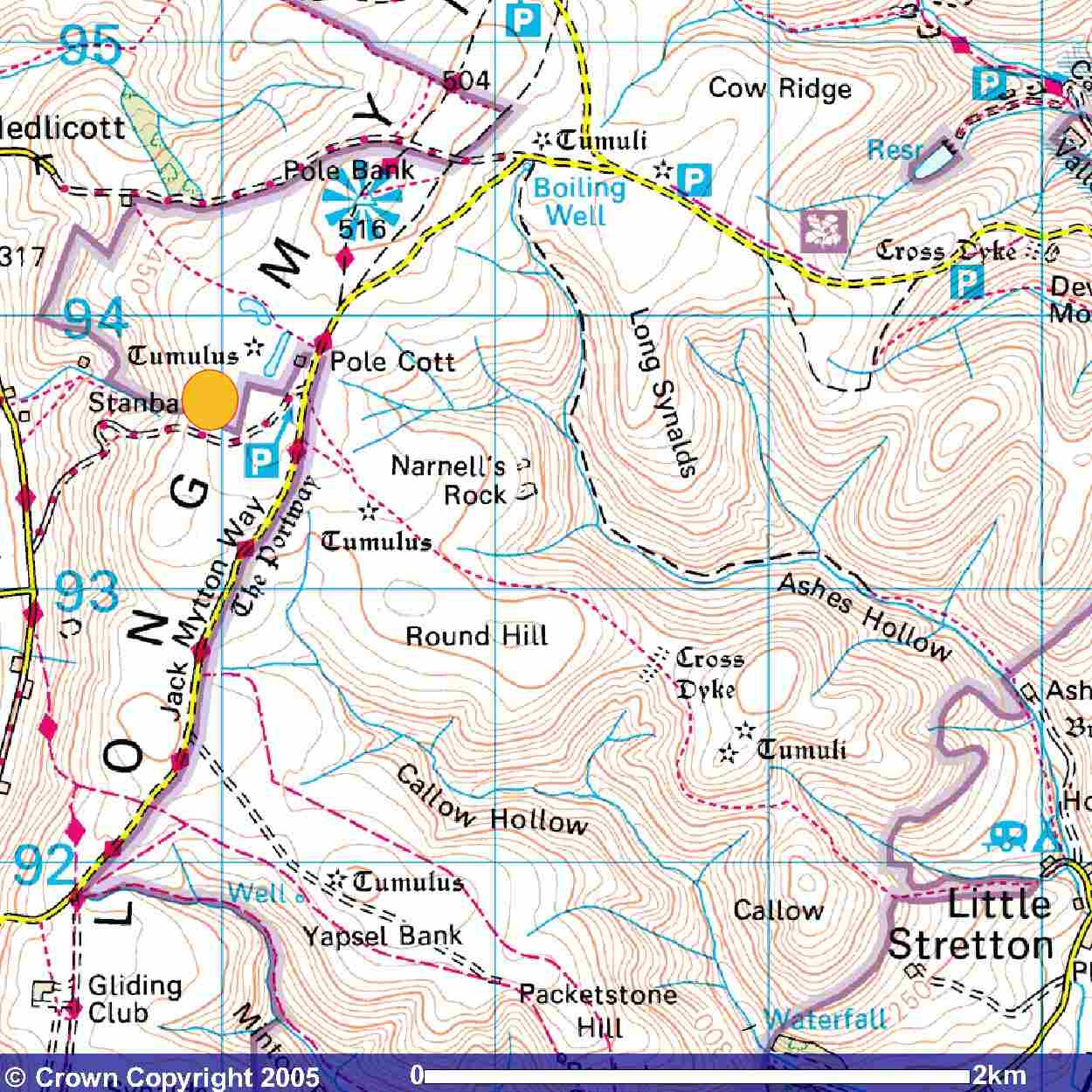 Get-a-map service. Image reproduced with kind permission of Ordnance Survey and Ordnance Survey of Northern Ireland.